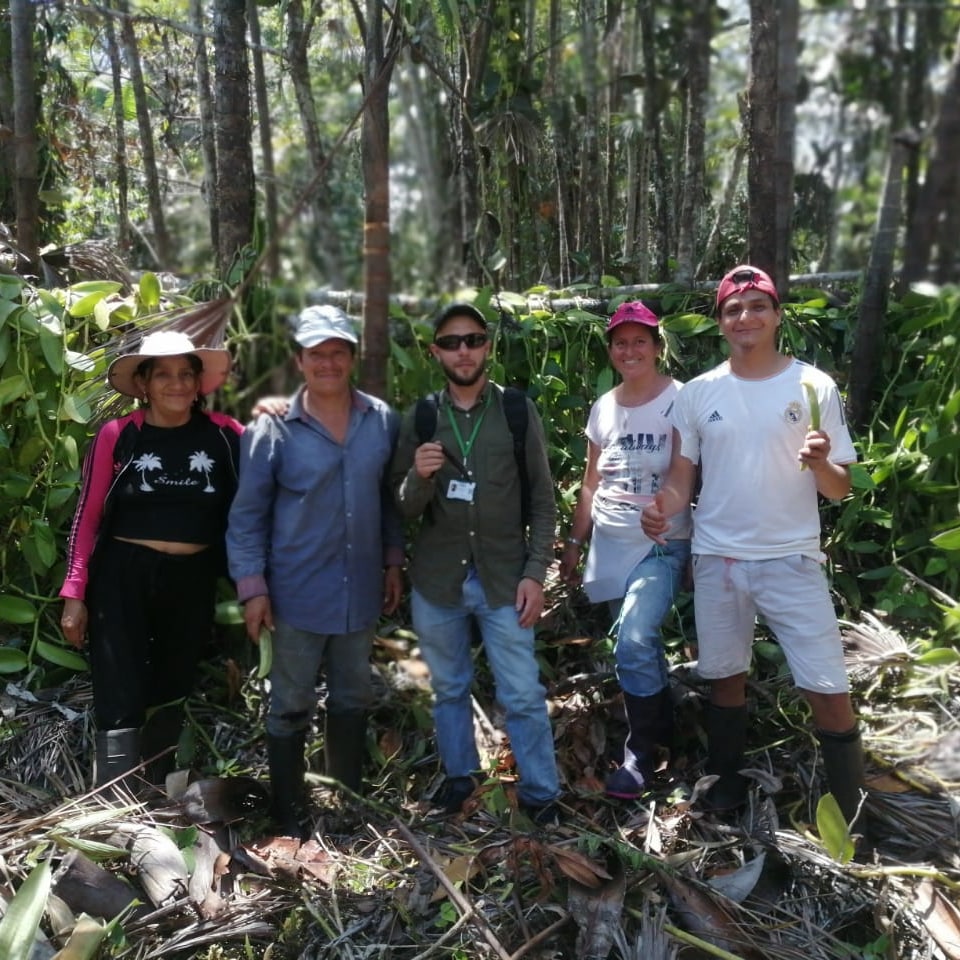 The Amazon Vanilla Project oper­ates in the San Martín dis­trict of north­ern Peru, pro­vid­ing edu­ca­tion and sup­port for local farm­ers to grow vanil­la as a cash crop. The project is spon­sored by Sekut Vanilla Co. which pro­vides cur­ing and mar­ket­ing ser­vices to local farm­ers. Vanilla, like cacao, can be grown in a for­est set­ting with lit­tle change to the for­est itself, pro­vid­ing a fam­i­ly income while pre­serv­ing the nat­ur­al diver­si­ty of the Amazonian rainforest.
Vanilla is grown under the for­est canopy, using small trees or trel­lis­es built from avail­able mate­ri­als in the for­est. Since vanil­la is an epi­phyte, its cul­ti­va­tion does not require fer­til­iz­ers or oth­er chem­i­cals. They are nat­u­ral­ly pest-resis­tant grow­ing in a diver­si­fied set­ting in their home environment.
The par­tic­u­lar species of vanil­la they grow is vanil­la pom­pona, a kind of vanil­la that has been known in the fra­grance trade for a long time, but is not well known as an ingre­di­ent in cui­sine. It is increas­ing­ly of inter­est, how­ev­er, and the mar­ket for pom­pona vanil­la is grow­ing rapid­ly. It went from being a niche item you might be able to acquire if you were in the trade, to the present, where there are sev­er­al online out­lets offer­ing these exot­ic pods.
The pom­pona pods we offer for sale here are all sourced from the Amazon Vanilla Project and so your pur­chase direct­ly sup­ports indige­nous vanil­la farm­ers in Peru.