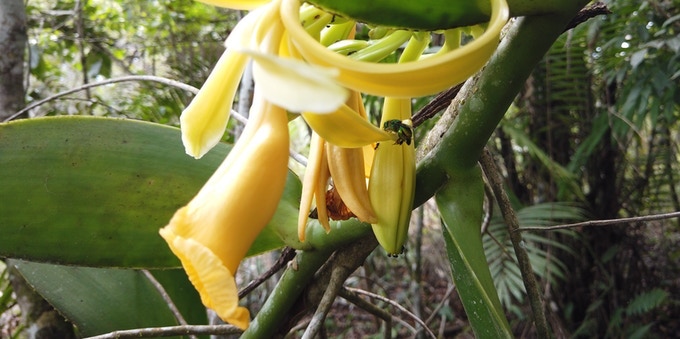 Peruvian vanil­la grow­er Ashley Britton has launched a project to bring vanil­la pro­duc­tion to the Peruvian Amazon to ben­e­fit the indige­nous Awajun people.
Vanilla pom­pona has been wild­craft­ed in this part of the Amazon for a long time for local use, but with glob­al demand for real vanil­la grow­ing, this is a good time to estab­lish vanil­la pom­pona as an export prod­uct. The region suf­fered a set­back in its abil­i­ty to pro­vide a cash income when the cacao was reject­ed for too high a cad­mi­um con­tent. Ashley hopes that vanil­la, specif­i­cal­ly vanil­la extract, can sup­plant the lost cacao income.
A Kistarter Campaign is Launched
Ashley has start­ed a Kickstarter cam­paign, The Amazon Vanilla Project in order to raise funds for a small pro­duc­tion facil­i­ty and to pro­vide edu­ca­tion on how to grow and pro­duce vanil­la for mak­ing into extract. The extract would then become an export product.
I encour­age you to take a look at the cam­paign, if suc­cess­ful, it would be a good oppor­tu­ni­ty estab­lish a sus­tain­able agri­cul­tur­al prod­uct for the region, giv­ing local peo­ple an incen­tive to pro­tect the forest.