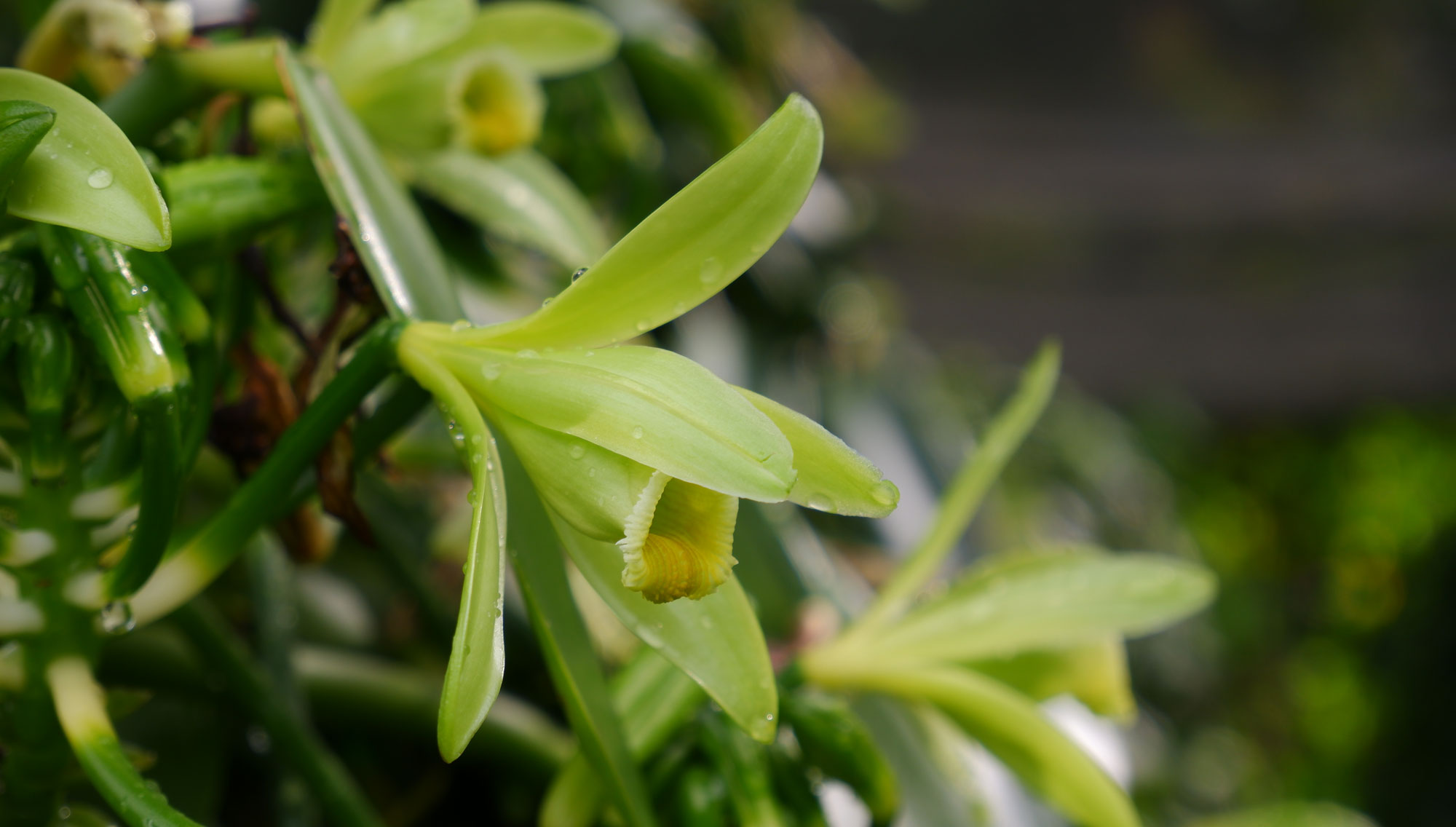 Lisa and I spent a good part of the morn­ing out in the vanillery pol­li­nat­ing the flow­ers. We've been out there every morn­ing for sev­er­al weeks already, but today was dif­fer­ent. It seemed like the entire place was ablaze with the pale blos­soms: every­where you looked, flow­ers beck­oned as if to say "come taste my sweet nec­tar" but of course, we were not there for that.
Pollinating a vanil­la flower takes del­i­ca­cy, a steady hand and a famil­iar­i­ty with the anato­my of the orchid's bloom. After a while, you can do it quick­ly, which is good, because there are sev­er­al hun­dred of them ready to go today. There's no wait­ing for these flow­ers, they'll be closed for busi­ness by noon…it's like a break­fast-only restau­rant, miss it and you've lost your chance to eat. Each flower is only going to open once, so no excus­es, get out there and do what needs to be done!
Not that it is unpleas­ant, not at all. We're out in nature in the qui­et morn­ing, dew sparkling in the sun. Of course the birds are singing: car­di­nals and shama clos­est by, mynas, doves and para­keets in the dis­tance. The car­di­nals are our most avid singers, they sing forth in the morn­ing and again at dusk. The shama is a bet­ter singer, if vir­tu­os­i­ty counts, but the car­di­nals are loud­er and more unctuous.
Those car­di­nals are close by because around the vanillery we've plant­ed a hedge of one of our most use­ful plants, Flemingia macro­phyl­la, a nitro­gen-fix­ing mem­ber of the pea fam­i­ly that is an excel­lent source of mulch. The lit­tle pods it pro­duces are a favorite of the seed-eat­ing birds around here: white-eyes, finch­es, and of course the car­di­nals, who sing in the hedges and nois­i­ly munch on the Flemingia seeds.
The vanil­la flow­er­ing sea­son extends for about 3 months, we start in March typ­i­cal­ly, with the height of the sea­son in mid to late May. We'll be pol­li­nat­ing strag­glers through June, although there's less to do even if there are plen­ty of blooms because once a raceme has enough pol­li­nat­ed beans devel­op­ing, we stop pol­li­nat­ing that raceme. Over-pol­li­na­tion results in small beans, which are not of much use.
In about 9–10 months, our pol­li­nat­ed flow­ers will have become ripe vanil­la beans, ready for harvest.