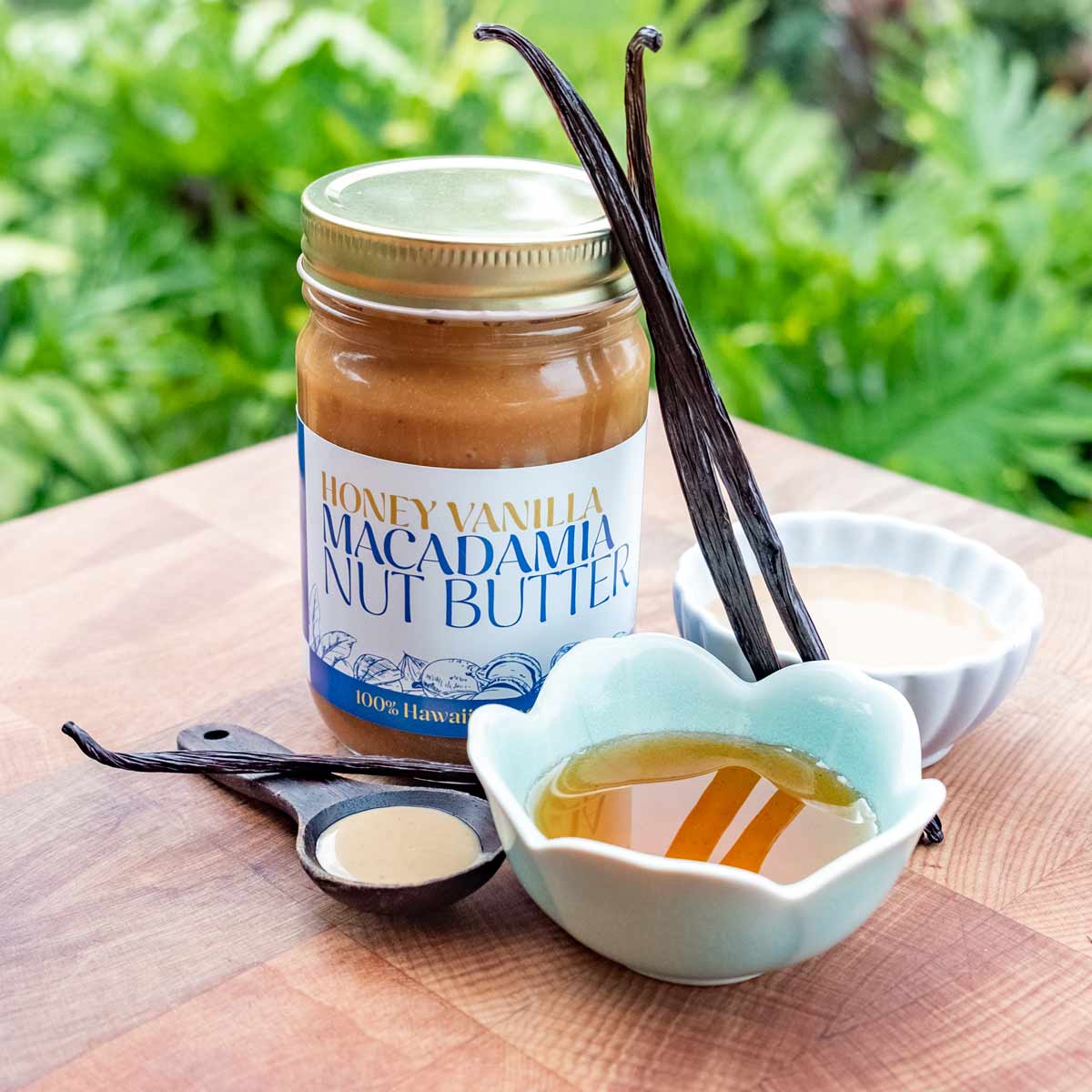 There's a new fla­vor of macadamia nut but­ter out by Tiny Isle: Honey Vanilla. And of course, it fea­tures our own vanil­la. This pre­mi­um nut but­ter blends fresh toast­ed mac nut but­ter with a lit­tle hon­ey and Vanillery of Kauai vanil­la extract.
We have been com­bin­ing hon­ey and vanil­la for years here, it's a won­der­ful com­bi­na­tion as the com­plex sweet/sour fla­vors of the hon­ey com­bine so well with the flo­ral notes of the vanil­la. At home, we make a vanil­la creamed hon­ey which we have giv­en out as hol­i­day gifts. I've always thought that vanil­la adds what I call a "creamy" fla­vor to what­ev­er you put it in, and for hon­ey, this is a nat­ur­al exten­sion of its fla­vor profile.
This new fla­vor of macadamia nut but­ter is sold in a 12oz. jar, well suit­ed to a pantry shelf. The sweet­ness was rolled way back (com­pared to Tiny Isle's "Kauai Honey" mac nut but­ter, which is a 50–50 blend of Kauai hon­ey and raw mac nut but­ter) so the toasty, nut­ty fla­vor of the macadamia nuts has cen­ter stage, sup­port­ed by the sweet­ness and fra­grance of the oth­er ingre­di­ents. It's just a real­ly excel­lent way to enjoy the unique fla­vor of our Kauai-grown vanilla.
The prod­uct is avail­able on tinyislekauai.com.