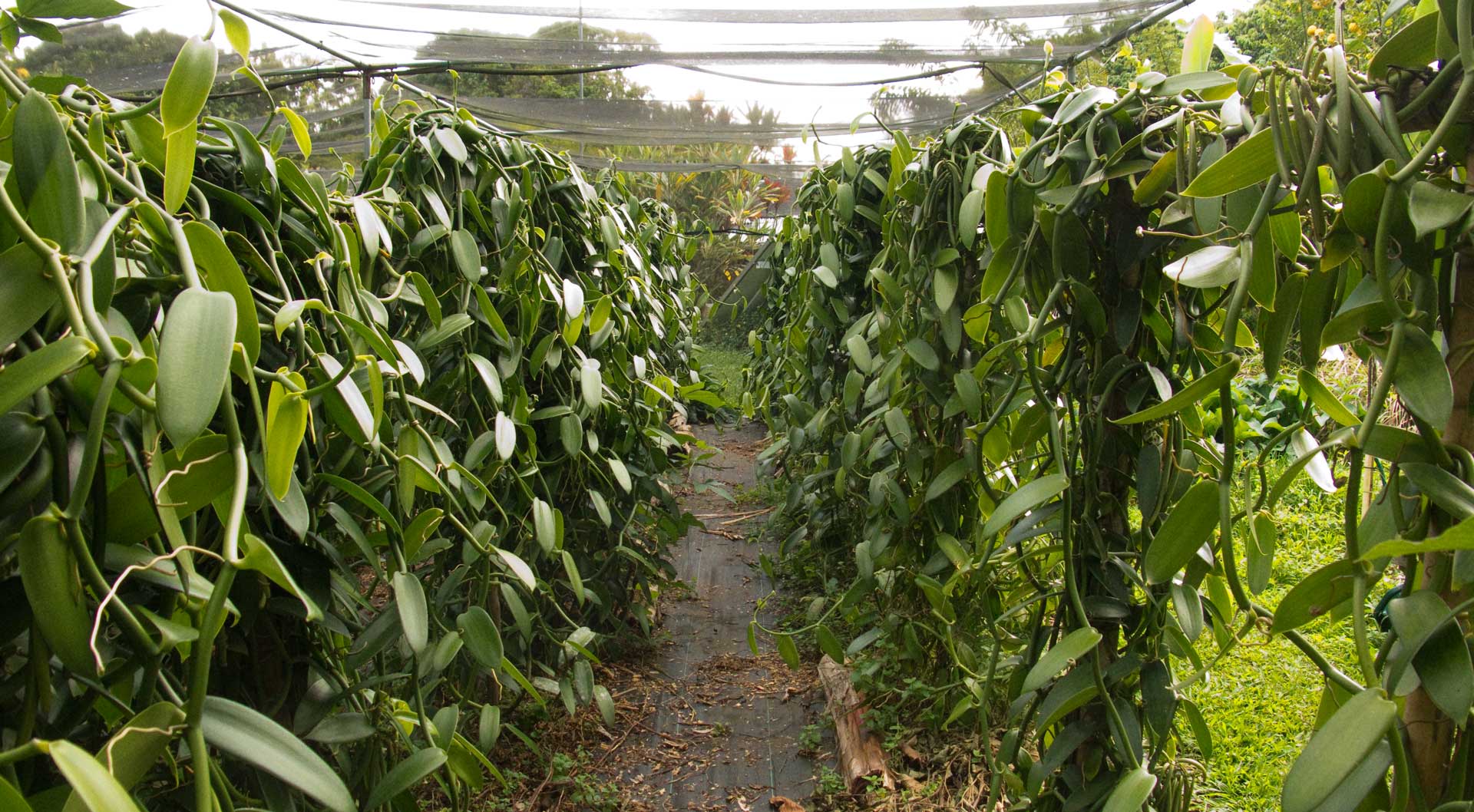 This is the first year we are get­ting a full har­vest out of the vanillery. It's been a good year, growth-wise, maybe even too good. The vines are grow­ing so thick­ly now, it's hard to see the beans for harvesting.
This har­vest sea­son actu­al­ly began on January 3, we missed a few ear­ly ones, but on that day I har­vest­ed 3 dozen beans. It seems to be com­ing in much ear­li­er this year. Last year's first har­vest was in February some­time. I can only guess that the onset of the har­vest sea­son moves around a lot.
Today's har­vest was par­tic­u­lar­ly boun­ti­ful in terms of bean size. In the pho­to, I'm hold­ing one of the biggest beans I've ever seen, 240mm in length and weigh­ing in at 33 grams. The aver­age length for a grade I bean is about 180mm and 17g, so that's sub­stan­tial­ly larg­er than most of the large beans.
You might expect a bean like that from a Tahitian vanil­la (Vanilla tahiten­sis) plant, but we are grow­ing the more com­mon Vanilla plan­i­fo­lia, which pro­duces a small­er bean generally.
Vanilla bean green grades are by length: grade I is 150mm and over, grade II is 150 — 100mm, and grade III is less than 100mm. This is impor­tant because the pro­cess­ing is slight­ly dif­fer­ent for each grade. The larg­er the bean, the more time it gets in the kill bath and in the sweat­ing stage.
For the beans in this kill bath, it is the begin­ning of a long process: 10 days of sweat­ing fol­lowed by 3–6 weeks of air-dry­ing. After that, the by now shriv­eled and dark brown or black beans are con­di­tioned for 9 months before they are grad­ed and made into extract.