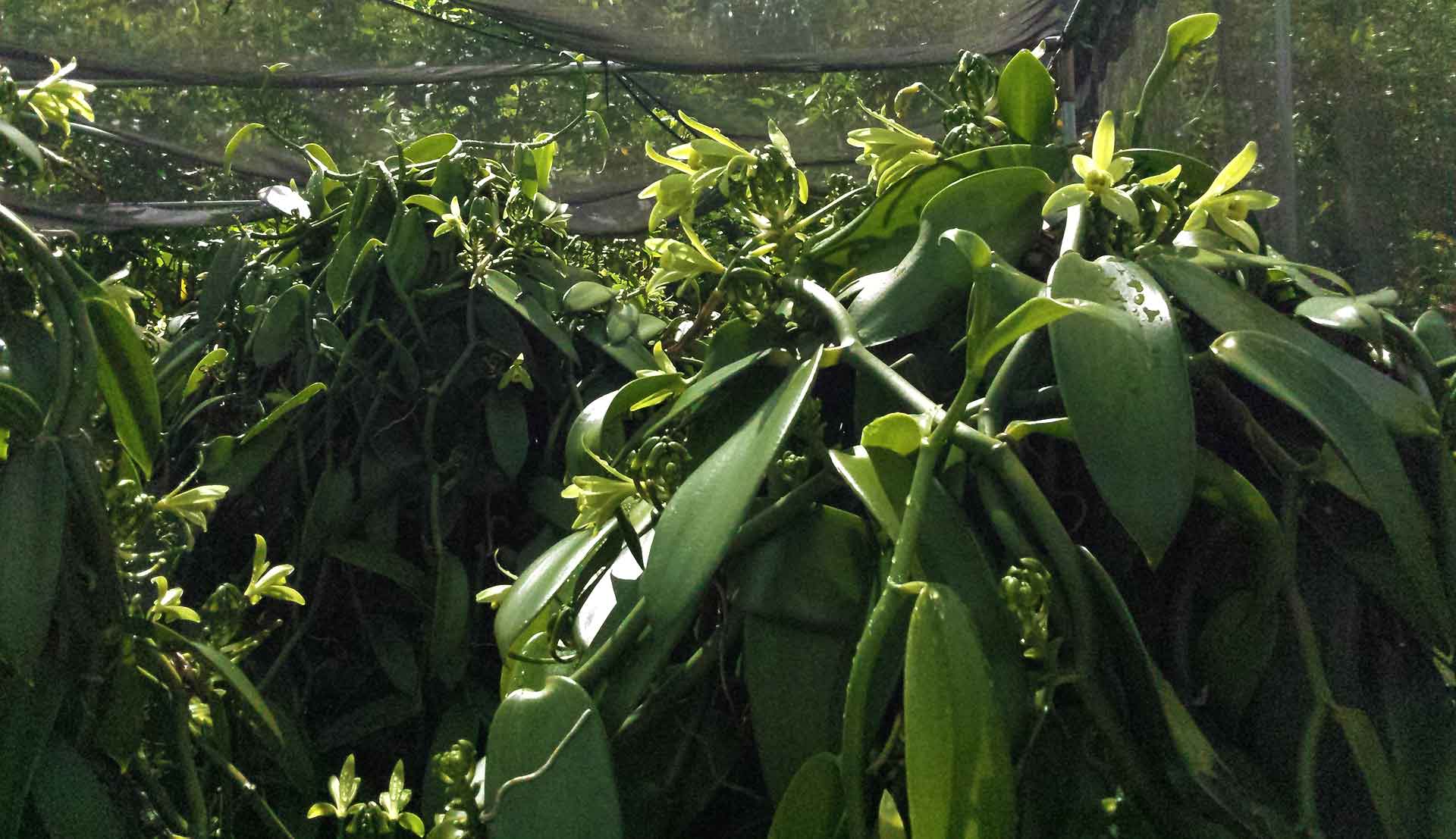 Lisa and I had an incred­i­ble day of pol­li­nat­ing yes­ter­day! We're pret­ty sure we've nev­er had so many flow­ers going off before. She and I pol­li­nat­ed 682 flow­ers, tak­ing us near­ly 2 hours to com­plete the day's pollination.
Vanilla Flowering Variability
The num­ber of flow­ers we get each year varies a lot. Like any farmer, we've got the­o­ries and some expe­ri­ence to explain the vari­abil­i­ty in the flow­er­ing of the vines.
The 2017 flow­er­ing sea­son was big: we had many days of over 100 flow­ers get­ting pol­li­nat­ed, and sev­er­al that approached yes­ter­day's totals.
The 2018 flow­er­ing sea­son (the beans from which we are cur­ing now) was much small­er, and at this point it looks like the crop will be a bit more than half of what we got the pre­vi­ous year.
The win­ter and spring of 2018 was stormy and wet, and the lead the­o­ry is that the cloudy, wet weath­er not only sup­pressed bud­ding and flow­er­ing, but also affect­ed pol­li­na­tion rates. We saw a lot of failed pol­li­na­tion that year and it's pos­si­ble the con­stant wet­ness may have inter­fered with what is nor­mal­ly a pret­ty sure-fire oper­a­tion (90% suc­cess is typical).
This Year's Differences
This winter/spring is by con­trast much dri­er and sun­nier, but there are oth­er fac­tors in play this year that may have increased the num­ber of flow­ers we got.
First, this year we have Freddy, a new helper on the land, who has a knowl­edge of Korean Natural Farming (among many oth­er things). He has been apply­ing com­post teas and oth­er prepa­ra­tions, and the effect on every­thing we are grow­ing here has been pro­found. Freddy is our new secret weapon, a man who is pas­sion­ate about plants and hot sauce. He fits right in.
Second, I learned that vanil­la farm­ers will often do a major prune of the new grow­ing tips just before the first buds appear in order to stim­u­late bud growth. It's not uncom­mon to apply a lit­tle stress to some plants to encour­age flow­er­ing. It's maybe a lit­tle voodoo, but I tried it and I cer­tain­ly can't say it hurt the pro­duc­tion of flower buds!
So, it looks like we are in for a big year for the 2020 harvest!