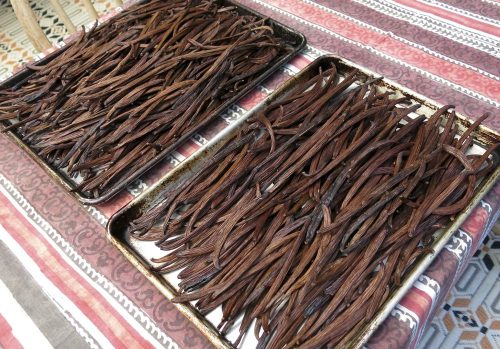 Took the beans out of their box today: it's time to grade the harvest. The last beans came off the open-air drying racks two months ago, and they've been conditioning in their box since then. The beans are graded at this point, divided into the two grades by size, moisture content, and appearance.
The grade A beans are bundled and placed in the conditioning box for another 7 months, so there is a total of 9 months of conditioning after the drying is complete. The cured beans are sold to the culinary trade for direct use in recipes. They are brown in color and filled with fragrant, oily "caviar," the seeds and pulp of the vanilla pod after curing. This is where the fragrance of the vanilla bean is concentrated.
The grade B beans in part will be sold as grade B beans, but most will be used to make extract. We make two different types of extract: one, a 100% local extract using Koloa Rum, made on the west side of Kauai. The second is an organic extract using Prairie organic vodka. The beans sit in the alcohol for a minimum of 6 months before we begin to sell them.
It's a good harvest this year, I'm very proud of it! The beans are in beautiful condition.