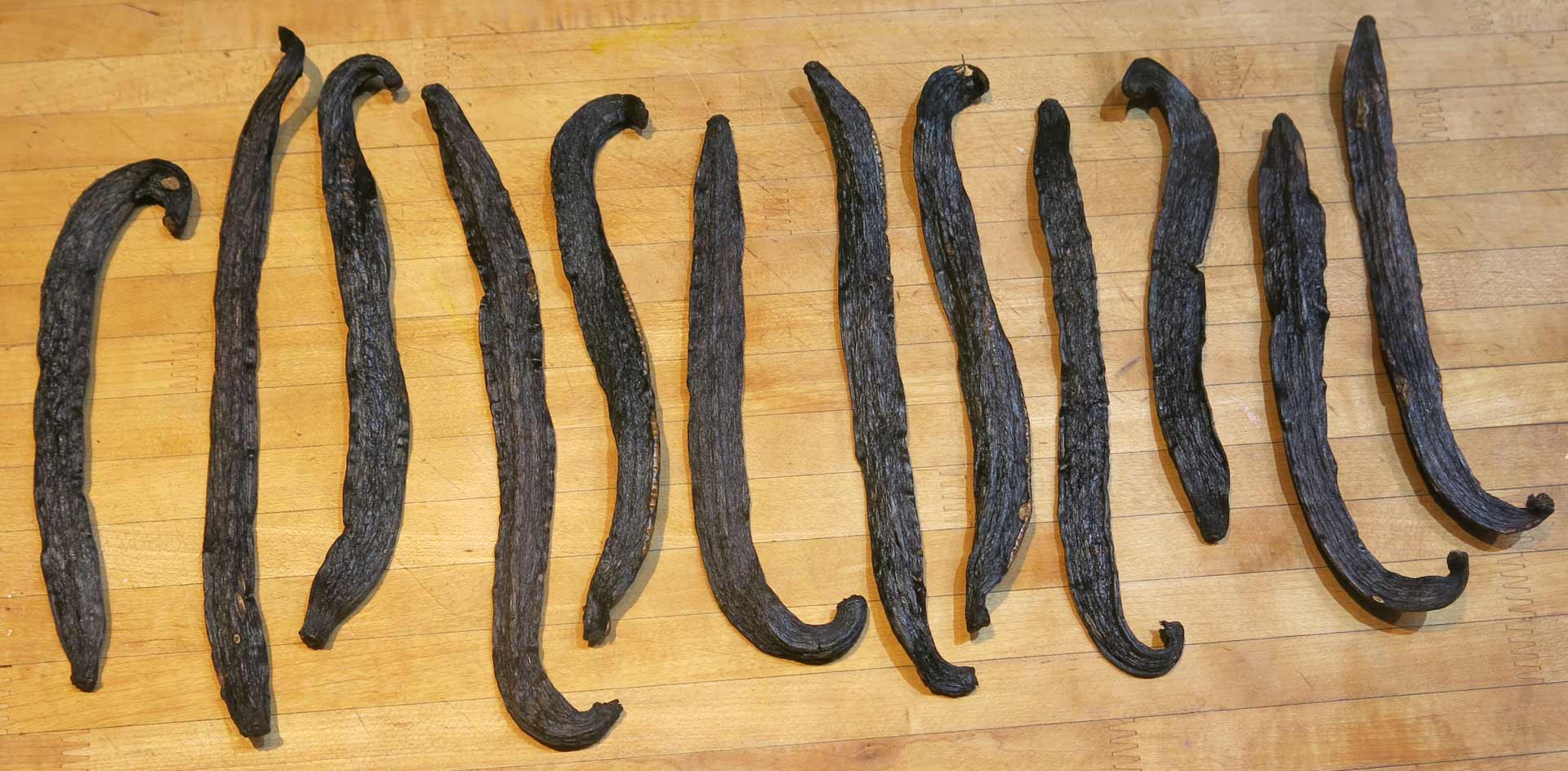 A cou­ple of months ago, I received an email from a a fel­low vanil­la grow­er in Peru named Ashley Britton. We have been exchang­ing knowl­edge and expe­ri­ences since then, and it has expand­ed my think­ing about what vanil­la is and how it can be grown.
Ashley is grow­ing vanil­la in the moun­tain­ous rain for­est region of San Martín in Northern Peru. In that area, the vanil­la orchid that is found grow­ing wild is vanil­la pom­pona, a species of vanil­la that ranges from south­ern Mexico through north­ern South America. That rep­re­sents rough­ly the same range as vanil­la plan­i­fo­lia, the main species for agri­cul­ture, which we grow here on Kauai. San Martín is known for its orchids, and they are fea­tured in the tourism of the area as well as pro­vid­ing a local agri­cul­tur­al product.
Pompona vanil­la was the first vanil­la to be record­ed by west­ern­ers and export­ed as a fla­vor­ing. It was grown com­mer­cial­ly, but was even­tu­al­ly sup­plant­ed with vanil­la plan­i­fo­lia because the lat­ter got bet­ter yields in a plan­ta­tion set­ting. Pompona vanil­la remains a wide­ly used fla­vor­ing in the regions where it grows nat­u­ral­ly: Peru and parts of south­ern Mexico. These days, it is almost com­plete­ly unknown out­side of these areas.
Helping the Awajún
Ashley is explor­ing the pos­si­bil­i­ty that pom­pona vanil­la could be a good cash crop for the indige­nous Awajún peo­ple, who live in the region. They had been bring­ing in cur­ren­cy with cacao, but they recent­ly suf­fered a set­back with this crop due to their cacao get­ting reject­ed for too high a cad­mi­um con­tent (the cad­mi­um is present in trace amounts in the soil, and cacao tends to con­cen­trate it in its seeds).
Pompona vanil­la can be wild­craft­ed, and so it presents an oppor­tu­ni­ty to engage in a sus­tain­able form of low-impact agri­cul­ture. Even cul­ti­vat­ed vanil­la tends to take up lit­tle space, tol­er­ant of shade (so you don't have to cut down lots of trees to plant it), and does not deplete soil fertility.
There are sev­er­al obsta­cles to devel­op­ing pom­pona vanil­la as a agri­cul­tur­al export, but I think the first step will be in intro­duc­ing its dis­tinc­tive fla­vor and aro­ma to the bou­tique vanil­la mar­ket. Once that hap­pens, an appre­ci­a­tion of it will cre­ate a demand.
There is also the pos­si­bil­i­ty of exploit­ing the use of pure vanillin crys­tals, of which pom­pona is a good source, for use in per­fumery and med­i­c­i­nal products.
Ashley has set up a Kickstarter for the Vanilla Pompona Project, it is about to expire, but on that page you can get a good idea of what he is plan­ning there. There is also the Vanilla Pompona web­site with more pic­tures and info, and even­tu­al­ly online sales.
What is Pompona Vanilla Like?
I received my pack­age of pom­pona vanil­la yes­ter­day, and it is tru­ly amaz­ing. When I opened the pack­age, the beans were unex­pect­ed­ly large and fat. Each one weighs about 15 grams: com­pare that to our own beans at about 5 grams each! They have the famil­iar shiny, black (very dark brown) wrinkly sur­face, and have the same dried-fruit sup­ple­ness of a well-cured vanil­la bean.
The fra­grance is cer­tain­ly like vanil­la, but it has its own char­ac­ter­is­tics: smoky, sweet notes along with the famil­iar mel­low­ing fra­grance that makes vanil­la spe­cial. I will have more to report on this lat­er, I plan to make an extract and try the beans in my own cook­ing to see what it's like in that context.
I am offer­ing pom­pona vanil­la for sale in my online shop, so you'll have an oppor­tu­ni­ty to try it for your­self. It seems like it could be the wild, untamed ances­tor to the vanil­la we are so famil­iar with.